Welcome to ForgottenFriend.org!
Forgotten Friend Reptile Sanctuary is a reptile rescue in the middle of Amish country, Pennsylvania.
Registered as Forgotten Friend, Inc., we are a 501(c)(3) nonprofit organization focused on educational outreach and rescuing reptiles.

Help us put inspirational animal books in the hands of children to commemorate our 10th Anniversary.
Visit ForgottenFriend.org/Books to help us put Miles and Miles of Reptiles into 1,000 children's libraries!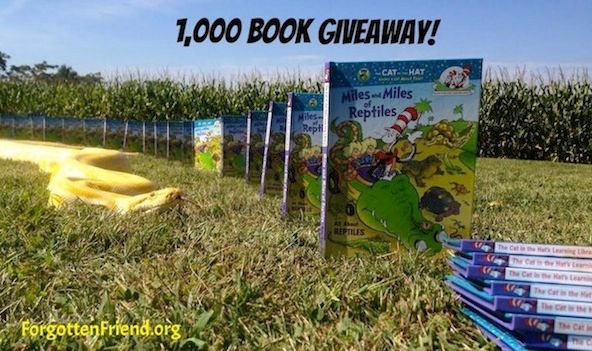 The following school districts have already accepted these books from us into their elementary school libraries:
Cocalico, Hempfield, Lebanon, Manheim Township, Reading, Solanco, Wilson,
as well as many private schools, public libraries, and many more in the works!

Thanks for more than 1,000 great outreach programs!
To schedule a live reptile program for your event, click here, or email us.

How can you get involved in reptile rescue?
There are a few ways you can help:
Giving up your reptile through Forgotten Friend
If you are unable to care for your pet reptile, please consider a rescue like Forgotten Friend. As a nonprofit organization, we never charge a dime to take in a reptile. Please NEVER release your pet reptile in the wild, which is illegal, unethical, and cruel to your pet.

If we can't take in your reptile, we can still help!
We're a small rescue with many permanent residents, and we serve a large area. We must turn away many calls to avoid overcrowding. Currently we're not accepting new animals from owner-surrenders so we can help police and animal authorities with emergency cases. We are also unable to take in Red-Ear Sliders and Iguanas normally. This summer we do have have some open spots for iguanas with the completion of our new outdoor iguana house. However, if we're unable to take in your reptile here at the rescue, we can still help you network a home. We encourage you to post your pet for adoption on our Public Adoption Forum or Facebook Page. Many people use these great resources to find great new homes for their pets. Once you post on the adoption forum, we'll even email our rescue network about your adoption listing to let everyone know your reptile is looking for a new home. So if your pet reptile needs a new home, please use the resources on ForgottenFriend.org!